When diabetes robs a patient of their dazzling smile, implants can still be an option – and in this case, a life-changing one.
Diabetes had robbed Leonard of his dazzling smile. In the 18 months following his diagnosis, he lost several teeth and Maria Hardman, principal at Clinic 95, knew he was set to lose many more.
Maria Hardman said:
"Diabetes doesn't have to exclude patients from having successful implant surgery. By making the necessary changes to Leonard's diet,  his diabetes was so well-controlled that by the time his implants were placed, his healing from the surgery was amazing. And it was such a pleasure to treat him. He has a wonderful personality which shines through when he smiles."
Maria worked closely with Leonard and his doctor to ensure that his diabetes management was optimal before proceeding with surgery. Leonard was incredibly focused on getting his implants and so made all the necessary adjustments to his diet to better manage his type 2 diabetes. A consultant anaesthetist discussed Leonard's diabetic management prior to the surgery and was able to administer a medication regime that included constant monitoring of Leonard's blood glucose levels to ensure his comfort and safety throughout the procedure.
Dentist and technician working together
Maria works closely with John Davies for all of her implant cases. On the day of surgery, Maria and John worked together following the SKY fast & fixed protocol to provide Leonard with two full fixed arches fixed in just one day.  And with their meticulous planning, the surgery was smooth and uneventful and went exactly as anticipated.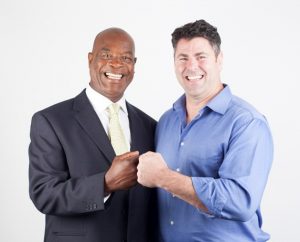 Leonard is now constantly smiling and describes himself as a "happy soul" and "with my new teeth I'm a very happy man."
See the full case study on Clinic 95's website
You can read more about SKY fast & fixed here or contact us if you would like to attend a live SKY fast & fixed case with Maria Hardman to see the surgery for yourself