BioHPP®  is the most stable non-metal material in dental medicine – and the most widely used high performance polymer in dentistry. Based on PEEK, BioHPP® is a ceramic-reinforced high performance polymer and provides the ultimate alternative to rigid framework materials.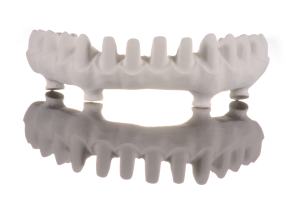 Image: Lab. Od. Antonio Lazetera, Savona, Italy
BioHPP® milling discs…
Are available to fit the majority of dental milling machines
Are extruded rather than heated and pressed to maintain its properties – unlike other high performance polymers
Comes in both dentine and white shades
Can be dry milled using bre.cam cutter tools – the patented relief cut prevents over heating and achieves a sharp, clean milled finish.
The new BioHPP® incentive…
Now is the perfect time to try BioHPP® milling discs with £50 off on your first order.
You can claim your offer online at www.bredent.co.uk/biohppdiscs, call Christian on 01246 641 050 or get in touch here
What people say about BioHPP®…
"BioHPP®  is a fantastic alternative to previous substructures, backed by bredent's research" Clive Smith, Director at Halo Dental
"bredent's BioHPP®  has many uses throughout the dental laboratory but for me it's the indications within implant dentistry that impress me the most. It's light weight, strong,  biocompatible, easily processed/adjusted and has a similar flexure to that of natural bone. bredent can always be relied upon to deliver outstanding customer service and fantastic dental equipment and materials." Richard Elliott, Director at Queensway Dental Laboratory