Introducing breCAM cutters for all polymers, thermoplastics and waxes and the new breCAMcutter ZR for processing zirconium oxide.
breCAM cutter
The breCAM.cutter has been specially developed for dry machining of thermoplastic materials (PMMA / PEEK / Wax) in CNC
milling machines.
Thanks to a special cutting geometry, it is also possible to take thermoplastic materials, which have properties which allow them to spread quickly and clog up the tool, and mill them without water cooling.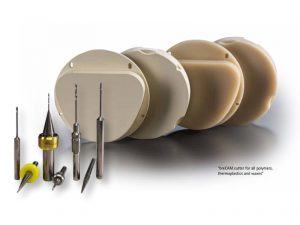 breCAMcutter ZR
We apply a real diamond coating, such as that on the breCAM.cutter ZR, using CVD ("Chemical Vapour Deposition"). This extra-strong real diamond coating increases the service life by a factor of around 12, by 1200%, compared to a non-coated tool.
High degree of hardness at 10,000 HV0.05
High level of thermoconductivity
Good slip properties
High dimensional accuracy and process capability
Extremely abrasion-resistant
Extra thick diamond coating