Whether you are looking to restore implant frameworks or customise dentures, we offer a range of visio.lign kits...
Freestyle kit
The complete solution. The complete set includes all available shades of the crea.lign opaque, paste, gel and stains as well as visio.paint and the bond.lign primers/bonders.
Metal carry case
17 crea.lign gels – dentine
10 crea.lign gels – incisal
5 crea.lign gels – modifier
crea.lign gels – GUM
crea.lign gels – stains
crea.lign gels – transpa
17 crea.lign pastes – dentine
4 crea.lign pastes – incisal
5 crea.lign pastes – GUM
1 crea.lign paste – transpa opal
11 crea.lign opaker
1 visio.link
1 MKZ Primer
1 MKZ EM Activator
1 K-Primer
1 Modelling liquid
1. visio.paint
1 Composite shaper kit
27 crea.lign paste rotary piston
12 handles with UV LED
1 stainless steel syringe holders
1 crea.lign surface cleaner
Accessories including mixing blocks, application tips, disposable brushes
Request information about the Freestyle kit offer here
New crea.lign paste kit
Product code: CLPNSETFK
24 crea.lign pastes
11 crea.lign opaquer
1 visio.link
1 crea.lign modelling liquid
1 crea.lign composite shaper
1 surface cleaner
24 turn-piston for paste syringe
Order the set or find out more here
Red-white Aesthetics set
5 x 5g crea.lign gel, GUM (light, pink, rosa, red, lila)
2 x 3g crea.lign paste, GUM (PO, PL)
1 x 5g crea.lign gel transpa clear
1 x 4g crea.lign opaque, GUM
1 x 10ml crea.lign Modelling liquid
1 x 10ml visio.link
1 x unique brush, size 4
1 x one-hand use handles with UV LED (crea.lign gel)
1 mixing block
1 pin cover and application cannulas
2 rotary piston (crea.lign paste)
Layering instructions
Chipping Repair Kit for technicians 
The chipping repair kit for technicians is for use in the laboratory and includes £350 worth of primers.
Product code: CLIGNSETT1

Plastic case
MKZ primer
MKZ EM-Activator
K-primer
visio.link
Order your Chipping Repair kit for labs here
Chipping repair kit for technicians and dentists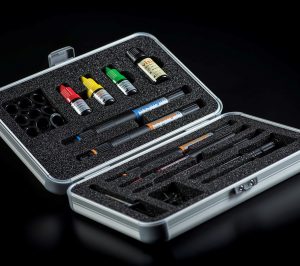 Product code: 580CLSETA

Aluminium case
MKZ primer, MKZ EM-Activator, K-primer and visio.link
crea.lign incisal gel shades E1
crea.lign dentine gel & paste, shades A2 & A3
crea.lign opaker, shades 2 & 3 & Z zirconium liner
Associated accessories including cannulas, disposable trays, rotary pistons etc.
Processing instructions
Order your Chipping Repair kit for labs and dentists here
The full range bonding kit is perfect for bonding individual ceramic abutments and useful for both dentists and technicians.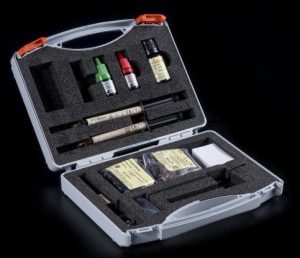 Product code: 5800BOND
MKZ- Primer (titanium, zircon, NPM)
K-Primer (ceramic, disilicate)
visio.link (PMMA, composite, BioHPP)
DTK adhesive Opaque (colour A2/A3) and Transparent
FGP insulating liquid
Fixing screws
Associated accessories including dispensing guns, cannulas, mixing blocks etc
visio.lign tool kit
The perfect kit for the finishing of teeth and composites.
Product code: VLTOOLKIT  
Specialist tungsten burs and discs
Full range of polishing tools
Abrasive and non-abrasive polishing pastes
Cleaning spray
Tool stand
Order your visio.lign tool kit here
visio.lign starter kit
A comprehensive starter kit containing all materials required to get started with the visio.lign veneering system.
Product code: VLIGNSET4
visio.lign tooth cabinet
novo.lign A veneers – anterior teeth. 30 tooth cards/slides
novo.lign P veneers – posterior teeth. 24 tooth cards/slides
3 x crea.lign incisal gel, 5g
3 x crea.lign dentine gel, 5g
3 x crea.lign modifier gel, 5g
3 x crea.lign GUM gel, 5g
2 x crea.lign opaker, 4g
2 x combo.lign luting composite, 8g
1 x visio.sil silicone for matrixes, 50ml
1 x visio.link, 10ml
1 x MKZ Primer, 4ml
1 x Modelling liquid, 10ml
10 x mixing cannulas, size 2
12 x mixing cannulas, size 4
3 x Single hand grip for crea.lign
10 x pin covers
10 x application cannulas