Seven implant lines, 1 surgical tray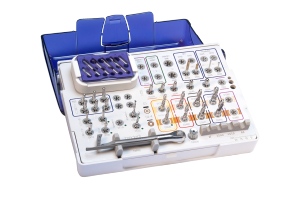 Features of the new SKY surgical tray…
Few instruments – simple and cost-effective
Contains all the restorative tools so there is no need for any additional trays
One surgical/restorative kit simplifies workflows in the practice and enhances process reliability – treatment costs and times are reduced considerably as it is possible  to switch from one implant to another intraoperatively
Only 18cm x 13cm (a lot smaller than the previous SKY surgical tray which measured 29cm x 18cm)
The silicone holders of the instruments are moulded into the tray insert for cleaning
The tray is validated for machine cleaning in a thermal disinfector
The tray insert is used as a holder for the instruments and drills during machine cleaning. Only the ratchet and the drill stops must be washed separately in a small parts basket.
Purchase the new tray…
Whether you're a new or existing customer we have the correct tray for you.
Purchase add-ons…
You may also need the components for other parts of the SKY range. So the kits below enable you to simply add what you need…
copaSKY upgrade kit – add the additional drills and instruments for use with copaSKY implants. Order yours here
whiteSKY upgrade kit – add the two implant insertion instruments for use with whiteSKY implants. Order yours here
miniSKY upgrade kit – add the two implant insertion instruments and the twist drill 1.3 for use with miniSKY implants. Order yours here
Additional restorative trays are also available for non-surgical interventions.